Feeders Albouy
Feed professionally. Mix accurately. Reduce food wastage.
Why should I choose the feeders Albouy?
We specialize in feeders for small ruminants. The feeding system using Albouy devices has been verified by more than 40 years experience on farms with intensive production. Due to this fact the system is worked out to the last detail so that you can feed sheep and goats much easier.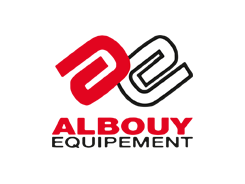 Feeders for sheep and goats
Grain dispensers – mobile
Developed for breeding small ruminants
Specially developed for breeding small ruminants. The dosage is calculated and mixed with a precision of grams. Therefore each animal becomes its accurate dose of food. The animals can be locked in feeding position. The stronger individuals are thus not favoured for feeding. On the contrary, the selected animals may be excluded from locking. For this reason, the feeder can be used for nursing and breeding purposes, or for herd sorting.
High-quality design and material
Albouy thinks of every detail. The development and design of the entire device meets the high standards of western European countries. Premium materials are used for Albouy constructions that are almost maintenance-free and service-free. They will be in full operation for many years. Thanks to the decades of development you will use a proven device tested by years of practice.
Specialized care for small ruminants
We help you take efficient care of small ruminants. The supplied feeding devices and milking parlors are specially developed for the care of small ruminants, sheep and goats.
The use of the devices has been verified for more than 40 years of working in real premises and it is nearly maintenance-free.

We will help you choose the appropriate technology for your breeding and show you how it works in practice.
Please, arrange a meeting with us.